Soundwave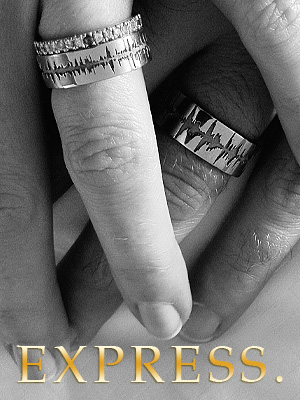 Create a one of a kind piece of jewellery using your own personal recording.
Did you know sound waves, similar to fingerprints, are unique to the individual?  They are your own personal encrypted code!  A secret visual mark that defines a part of you. Do you have a special message you want to share, an important quote that defines you, a favorite song that has touched you?  With Soundwave Jewellery you can share a personal message with a loved one or remind yourself of a special moment.
Here is how it works:
STEP 1 – RECORD
RECORD your own unique message.
Record your wedding vows, document your baby's first words, immortalize the voice of a special person who is no longer here, celebrate your first hit single, archive your valedictorian speech.  The possibilities are endless and the choice is yours!
Visit us in our west end Toronto studio where we start by recording and transcribing your voice into a digital format with our in house recording equipment (we can also digitize files that are sent in via email).  See your personal sound wave materialize right in front of your eyes.
Book a private consultation in our west end Toronto studio or communicate via phone: 905-626-4233 or email: moc.eispmarcelleinadnull@ofni
STEP 2 – CREATE
CREATE your one of a kind piece of jewellery.
You can choose to customize a ring, pendant, dog tag, cufflinks or earrings.
Come into the studio where you will be shown examples of metals, sizes, shapes and surface finishes.  Out of town clients will be catered to via email and/or phone.
Danielle will use her expertise to help you create the perfect piece of jewellery.  Add engraving, incorporate stones, choose decorative finishes.  Bring all your ideas to the table and we will work together to create a truly unique one of a kind expression of you.
You will be shown a computer rendered drawing of your sound wave to approve. Please allow 4-8 weeks for the production of your one of a kind piece of Soundwave Jewellery.
STEP 3 – EXPRESS
EXPRESS your uniqueness.
Your custom piece of Soundwave Jewellery can be picked up at studio or mailed directly to you. Soundwave Jewellery is hand crafted with the upmost attention to detail and made to last for generations. Record your personal history, write your own story and solidify it in history with a piece of custom Soundwave Jewellery.
Enjoy your Custom Soundwave Jewellery for years to come!